CIO Review Magazine published their latest "Top 20 Most Promising eDiscovery Technology Providers of 2016"
doeLEGAL is honored to be included in this prestigious list for litigation support and eDiscovery Technology providers in 2016. We were previously included in CIO Review's list of "Top 20 Most Promising Legal Technology Solutions Providers 2014" which focused on Legal Spend and eBilling Technology Solutions and the providers that delivered them.
This recognition is added proof that doeLEGAL has taken a profound leadership position in each of the service areas we provide our global legal clients. For over 44 years, we have made it our mission to improve the daily workflow and workload of our clients. Serving both Corporate Legal departments and Law Firms, it is imperative that we remain on the cutting edge of technology innovations.
By consistently providing the superior technology our clients need and expect, we have carved out a niche in our service provider market of being the most configurable, responsive, and nimble software on the market. Providing this level of service with the only Predictable Cost of Ownership (PCO) sets us apart from the pack. From the PCO offered with our ASCENT® eBilling package to the "ALL-IN" pricing model offered with our eDiscovery services, there are never surprise bills or fees… EVER. The client wins each and every time. It is one more way we earn our clients' business every day.
Each member of our team is trained with a client-focused mission. With Collaboration as the backbone of our services, we understand the key to a successful relationship is working together to make things better. We provide that strong foundation in each of our product lines. This is proven time and again from feedback from our clients and recognition from our legal colleagues, like CIO Review.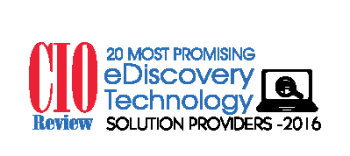 Read our profile and background piece here: 
doeLEGAL