Recapping ACC AM22
Questel LegalTech Solutions Empowers Legal Departments with the Most Comprehensive Suite of Solutions and Services
WILMINGTON, DE – Nov 18, 2022
The ACC Annual Meeting was live and in person for the first time in years and continued over three days in Las Vegas' Hilton Resorts World. It was great to network and speak with our Legal colleagues face-to-face. Questel LegalTech Solutions continues to demonstrate its leadership as a LegalTech provider by leveraging the expertise and resources of two Questel companies, doeLEGAL and Morningside, to complement its strong foundation in the global technology marketplace.
Morningside and doeLEGAL appreciated everyone that stopped by the booth to speak with our reps while attending ACC AM22 with over 2,500 in-house counsel and advanced education seminars that delivered topics of interest to Corporate Legal Departments and Legal Ops attendees. Our Legal Ops catalog continues to grow under Questel. doeLEGAL delivers the Ascent ELM solution designed to simplify Legal Ops tasks, optimize matters, and reduce costs. The comprehensive list of solutions and services also includes Morningside's Ascent eDiscovery and Business Translation services, as well as Questel's IP Management. One company, one source to drive success.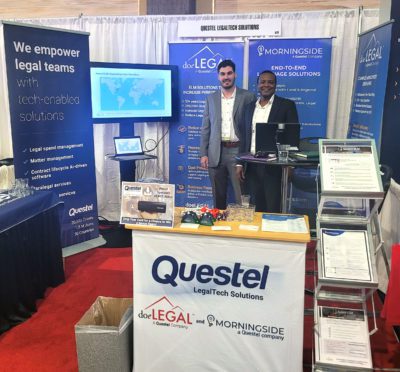 Top ACC AM22 Event Takeaways
Visitors expressed a renewed focus on increasing Legal efficiency to manage evolving business responsibilities.
Legal Ops seeks solutions that manage the business of law to lower overall Legal Spend through consolidation and automation.
Collaborative, reliable, and cost-effective comprehensive solutions offer greater value when managed by trusted, knowledgeable, and responsive experts.
Legal teams need a holistic view of their entire business through data transparency, integration, and collaboration, with insights delivered where they have the most impact.
Questel LegalTech Solutions provides the one-stop source for LegalTech needs, all from one global leader in delivering technology solutions. Our representatives were on hand to discuss and demonstrate the advancements in legal technology and services for Enterprise Legal Management, complex Multilingual eDiscovery Projects & Managed Review, Business Translations, and complete IP Management.
As a leading provider of ELM and eDiscovery solutions, Questel Legal Tech Solutions was proud to sponsor the AM22 event. The demand for solutions and services to take the weight off in-house counsel is increasing. doeLEGAL is ready to empower Legal teams to handle these expanding responsibilities with advanced solutions built to generate successful outcomes with a concentration on cost savings and increased accuracy.
If you didn't get the chance to stop by the booth to speak with our experts, you didn't miss your chance to get real answers from our experts – set up a meeting about doeLegal's Solutions and Morningside's legal solutions. Questel LegalTech Solutions is ready to guide you through cost-saving strategies for Enterprise Legal Management, eDiscovery, IP Management, Language Translation, Foreign Language Interpretation, and Document Review Solutions. For more information about Questel LegalTech Solutions, you can learn more at Questel and Morningside.
#doelegal #moringside #questel #legalops #legaltechsolutions #ACCAM22
---
About doeLEGAL
doeLEGAL, a Questel Company, is the enterprise-level provider of legal technology solutions and elevated support that gives corporate legal departments and law firms anytime, anywhere control over cases and costs to inform decision-making and drive more successful outcomes. Acting as their business partner, doeLEGAL provides clients valuable insights that reduce legal costs by as much as 50% and increase legal performance by up to 65%. Part of the growing portfolio of Questel companies, doeLEGAL differentiates itself as a leader in global legal tech solutions by providing "Smart data, intelligently delivered." Visit www.doelegal.com for information on advanced Enterprise Legal Management and eDiscovery services and technology.
About Morningside
Morningside, a Questel Company, equips the world's leading organizations with a full suite of end-to-end legal translation, document review, transcription, multimedia, and interpretation solutions. Morningside is globally recognized for its legal expertise and technology innovation in areas such as cross-border and patent litigation, international arbitration, M&A due diligence, FCPA compliance, and multilingual eDiscovery. Our convenient foreign language services cover over 150 languages and ensure that your most urgent projects are reliably delivered on time and on budget. Global 500 legal departments and 97% of Am Law 200 firms rely on Morningside as a trusted partner for their most important matters. Visit www.morningtrans.com for more information on our end-to-end legal translation and interpretation solutions.
About Questel
Questel's mission is to facilitate the development of innovation in an efficient, secure, and sustainable way. Questel is a true end-to-end intellectual property solutions provider to more than 20,000 clients and one million users across 30 countries. We offer a comprehensive software suite for searching, analyzing, and managing inventions and IP assets. The Questel group also provides services throughout the IP lifecycle, including prior art searches, international filing, translation, and renewals. These solutions, when combined with our IP cost management platform, deliver clients an average savings of 30-60% across the entire prosecution budget.