Emerson Legal Ops Leverages Questel's Ascent ELM to Streamline Cost Savings
Hear the latest Ascent ELM Client Testimonial:
Emerson Legal Ops needed innovative Legal Technology that could manage future initiatives, push beyond its current capabilities, and drive cost-saving opportunities.
Emerson's Legal department sought to centralize and streamline all functions with advanced LegalTech functions within a single platform. ELM offered the most significant answer to increase their operations efficiency and lower system complexity and reduce overall costs. However, they also needed an easy path for users to manage global legal functions with collaboration at its core. Overcoming user adoption after challenges from its previous ELM was critical to take advantage of the most significant benefits of an ELM system: revealing process efficiency, applying automation to eliminate waste, leveraging automation, and boosting savings opportunities.
The Emerson Legal Ops success story begins with their business challenges and how their team decided on how to approach finding an answer. Developing the right team to evaluate the different solutions was the first step to establishing the criteria to evaluate the LegalTech solutions that could help them achieve current and future goals. After short-listing the providers that met the first round, it came down to who they trusted to accomplish the task. Questel's team from doeLEGAL was able to provide the best answer, but now it was time to prove the value and implement a system that would maximize their performance – all in a tight time schedule. By working with Emerson's team of Legal professionals, our experts met their timeline and provided the exceptional guidance Emerson needed to move forward and intelligently implement the most beneficial system.  
These positive results highlight the ELM benefits Emerson Legal Ops experienced using Ascent ELM:
The legal Operations team projects a total of $15 MM in savings over the next three years through implementing new billing policies and operational efficiencies.
Ascent ELM's Alternative Fee Arrangements (AFAs) delivered unprecedented cost and saving predictability year over year.
All global teams collaboratively leverage Ascent ELM to manage legal spending with one tool integrated throughout their organization.
Emerson Legal Ops leaders sought to improve the legal department's business data analytics and evaluate different scenarios to maximize their control of eBilling, Matter Management, and Legal Holds. Enterprise Legal Management offered the "smart data" they needed for Legal to collaborate with all global business units to provide insights, analyze the processes for improvements, and seek more savings opportunities. Emerson found Ascent ELM to deliver the dramatic boost needed to handle more legal responsibilities, manage Legal's daily workflows, and analyze data to make business-critical decisions. Ascent ELM provided the best answers to meet those evolving needs!
The Emerson Legal Ops Goal:
Offer a strong, centralized Enterprise Legal Management
system that would analyze all legal spend information in one place.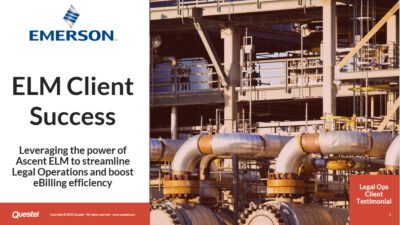 Ascent ELM centralized and streamlined functions to increase operations efficiency, but Emerson needed a system that could grow and evolve with them over the next 5-10 years. Ascent ELM offers a configurable layer on top of the base tool programming, which allows Questel to configure, not customize, the software to meet changing needs with little or no downtime. Keeping teams working at peak performance allows Legal Ops to remain in control of the business of law. That means they can use their combined strengths of Law and Business to control team performance, business productivity, and cost management from one centralized platform. 
Their ongoing goals were to improve process efficiency, automation, and savings opportunities: Emerson proved that working with dedicated teams of Ascent ELM experts enabled them to optimize operations and drive more cost-effective outcomes quickly. Hear Emerson's client testimonial live to learn more about its experience and results after employing Questel's Ascent ELM solution. 
If you missed the live webinar, don't worry, you can Download the Live Webinar recording to hear the Emerson Legal Ops story!