#3 in the new Blog Series: How to Evaluate Legal Operations Solutions
Evaluating Legal Ops Solutions:

Third, Evaluating the Need for Change
In our last installments, we explored how building a cross-functional team of department champions could determine what a successful legal department would look like in terms of function and outcomes. We then offered a list of questions to help uncover which provider and solution will have the best chance of yielding the required business results. These two steps established a solid foundation needed to meet the rest of the checklist steps. So what comes next?
Before moving forward with any software demonstrations or budget requests, this step will help justify the resources – time and money to be spent – or not. There's no sense in wasting time and effort if you can't create a business case to justify the costs of proceeding. This third stage may also help garner support for approval later because of your dedication to completing your due diligence first.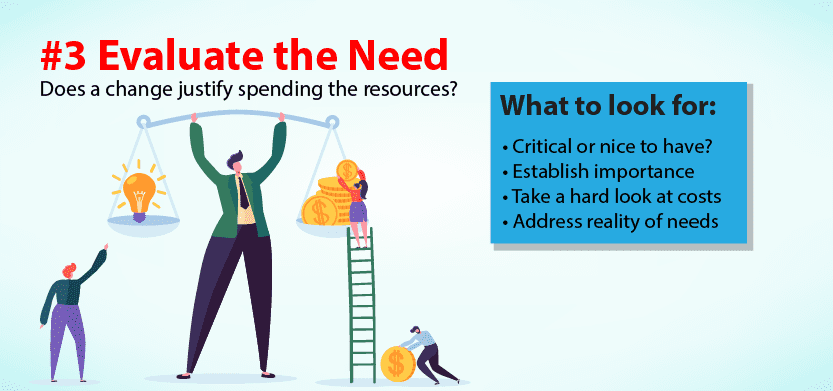 Once again, you'll need your evaluation team to assess each division's needs in order to apply quantifiable numbers to those needs. Without those numbers, there's little chance of getting budget approval for any new tools or service vendor relationships.
List critical needs
Now that you've used the questions from the previous step to identify which service providers and solutions are worth considering, your team can identify the most critical needs and link budget numbers to each one.
Assemble your evaluation team that helped develop relevant questions
Review the answers together and search for common themes
Create a critical needs list that must be met as a "go/no-go" decision criteria.
Ninja Tip: What must this technology do to achieve success? Drawing a clear separation between critical needs and beneficial improvements ensures you focus on what this technology must do and what may be just a bonus feature/benefit. Some team members may view these differently, so encourage deeper, open discussions.
Establish relative importance
Create a Project Needs Importance Hierarchy and focus on the top priority items first. Critical challenges rate higher than just "nice to have" items:
Which needs absolutely must be met for project success (These are priority #1 items)?
Of the secondary needs identified ("nice-to-haves"), what is their relative importance?
What criteria you'll use to decide if a solution should be on your short-list to demo?
Ninja Tip: By assigning importance first, you create a logical hierarchy of essential features/benefits. Focus on meeting project requirements, not on creating a full wish list.
Take a hard look at costs
Prove the need by quantifying the most important project implementation costs, ongoing cost expectations, total cost of ownership. There will be a cost associated with not doing anything, even if it's not monetary. It could be related to increased hours to accomplish a task, lack of automation requiring manual work, manual errors, or an inability to manage data effectively:
What are the quantifiable costs of pursuing a solution?
What are the cost-related benefits (efficiency, time, money saved) of doing so?
What are the costs of not doing so?
Ninja Tip: Identify budgetary limitations and the costs of inaction. If the technology costs more than what you'll save using it, it's a losing fight. Avoid wasting time on solutions too expensive for the expected benefits. This can help create "champions" in Finance and Procurement.
Address reality
After all stakeholders are heard, you'll have a clearer picture of your collective business needs, their importance, and the related costs. From here, it's easier to conclude whether the change is essential or just part of a future wish list. Be brutally honest about:
Precisely which resources (people, money, time) will you need to commit?
Can you extrapolate numbers from a similar needs evaluation already completed?
Consult your "deal-breaker" issues: "If it can't do/provide ___, it won't work for us."
Ninja Tip: Assess the final, realistic savings and costs with each solution, but remember that not everything is about money. Don't forget to add all extrinsic and intrinsic benefits here –these could include added transparency of data, ease of use, or other business-critical factors. What core issues can it fix, and can you realistically meet them with the tech?
The next step: Setting Goals
In our next post, we'll discuss why you need to define your ultimate goals. Any plan, not fully-thought-out, has little hope of success. Planning may take the valuable time you'd rather use to jump into the deep end by demoing and deciding on a solution, but few rash decisions ever produce positive, long-term outcomes. Take the time to do it right! By first setting your goals for success, everyone involved in the project will easily see if it is on the right track or if the project is veering off course.
Learn more about setting appropriate project and business goals. We'll cover areas such as:
Quantifiable goals for short-term (now through 1st year)
Quantifiable goals for longer-term (through the next 3-5 years)
How a successful project feeds the needs for future expansion and growth
While every company's checklist will vary, yours should look something like this:
Assemble the team (Read this post)
Start a conversation with leaders in every business unit that touches yours, and, if appropriate, invite them to be part of your evaluation team.
Ask incisive questions (Read this post)
Get to the heart of the business issue and identify a quantifiable goal.
Evaluate the need (You're reading this blog)
Consider whether the need is great enough to commit your collective resources.
Set goals
Look at quantifiable goals for short-term (now through the next year) and longer-term (through the next 3-5 years) time periods. Make them measurable.
Watch for deal breakers
Discuss what, if anything, would jeopardize a decision.
Gather evidence
Encourage members who are not part of your own unit to share challenges they face in theirs and what they're doing to overcome them.
Follow best practices
It's quite possible that examples of what other teams have done will include a formal or informal list of best practices – or at least some insights for creating that list.