doeLEGAL Proudly Sponsors the 2012 ACC Annual Meeting in Orlando, Florida.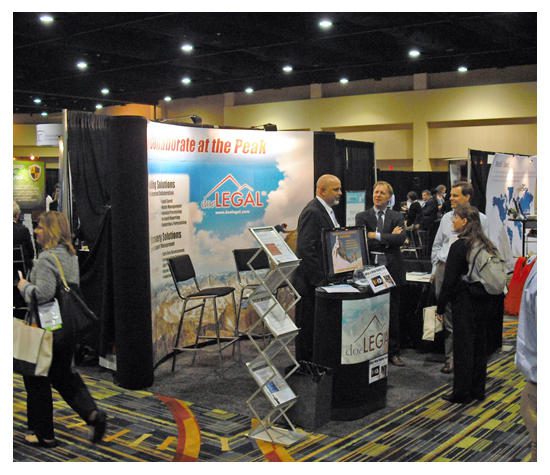 The place was Orlando, FL and those involved were some of the most influential corporate attorneys and thought leaders from around the country. The Association of Corporate Counsel's 2012 ACC Annual Meeting started on Sunday, Sept 30 and ran until Wednesday, Oct 3. This is a great venue for many of the top corporate attorneys to share their best practices with other corporate legal professionals. Class sessions typically cover the legal industry, the latest legal solution trends, along with what the future holds for Corporate America. The attending attorneys that enter into these sessions are many of the ones that will affect change in the industry for the upcoming years.
The daily sessions are held for attendees to earn additional CLE credits towards their annual certifications. The cadre of notable speakers was excellent this year, delivering both compelling news and training on each session. Every year the session material is chosen from the hundreds of topics submitted by sponsors and legal professionals for review and selection by the event organizers. With only about 10% actually chosen to present, the competition to present current, engaging, and memorable content ensures attendees receive the most valuable insights on how to make their jobs easier and elevate the performance of their teams.
doeLEGAL is a proud sponsor of the 2012 ACC Annual Meeting this year. We made truly valuable contacts with high-level attendees from each organization we spoke with. Having decision-makers come by the booth looking for the services we provide tells the real story about what the industry is looking for. We listened to all those that stopped by Booth 916 and offered real answers. Thank you for the opportunity to tell you more about the collaborative solutions for Enterprise Legal Management (eBilling, matter management, and legal hold) and eDiscovery (litigation managed support) that we offer as globally-accessed, SaaS services. We are ready to continue those conversations as we strive to help in any way we can.
For those that took home one of our world-famous mousepads, another THANK YOU! Everyone loved the larger and more colorful version of our 2013 calendar mousepad. Your stories of how you use them and how much they help you be more productive are always welcome. Our favorite quote was, "You always have the most useful swag at this show. I use this (mousepad) every day at the office!"
Look for more to come as we continue to sponsor events in your legal industry. You can check out more from the show on our Twitter account and on our Facebook page. The photos will be up in just a bit. Thanks again and we look forward to seeing you at the next ACC Annual Meeting in Los Angeles, CA in 2013!