Legal Project Management – Defining the Scope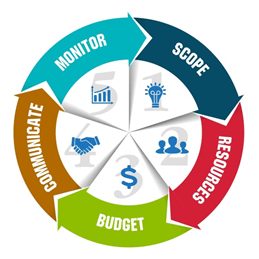 Understanding the fundamentals of legal project management will provide advantages to your corporate legal department and law firms as well as repeatable outcomes. The element of successful project management is upfront planning or Scope. It's important to understand that defining Scope early is the key to a successful project management plan. Creating a Scope establishes a roadmap of tasks and a position to track activities, resources, and costs associated with the legal project. This minimizes the risks of failure and ultimately creates a repeatable process that can be used for future similar matters.
The scope is the core of all project planning.  As a general rule of thumb, the Scope should be clear and precise, state what needs to be done, and by whom. This upfront plan serves as a "road map" to include overall goals and objectives for this matter.  Keeping these agreed-upon objectives in the forefront of thought helps guide all the task elements as the Scope of work begins. Putting in the necessary time to lay out the project plan in writing, understand the moving parts, possible risks, assemble the necessary resources, and then strategize how to work them all effectively and efficiently provides the greatest chance of success.
Working collaboratively with each team member involved in executing the plan increases overall efficiency and "buy-in."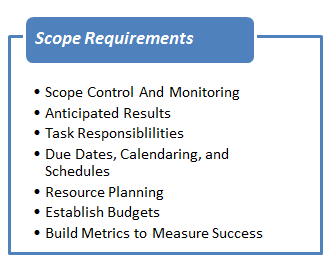 The discussion begins with the client and the law firm brainstorming which opens up two-way, critical thinking to determine the tasks that must be completed. A task-based Scope offers advantages to completing the necessary work collaboratively in a clear, standard UTBMS task code format. A useful tool for beginning the process is to use a method referred to as "mind mapping," which encourages lateral thinking – the ability to use your imagination to look at a problem in a fresh way and come up with a new solution.  This is often referred to as "thinking outside the box" in a business context.
A great way to do that is to simply imagine how you see the areas, resources, and risks affecting the project and then map out how these interactions affect one another. From these interactions, identify the types of connections, obstacles, and pathways that pose potential risks. As a result, you will be able to strategize based on identified project topics and priorities to communicate more clearly.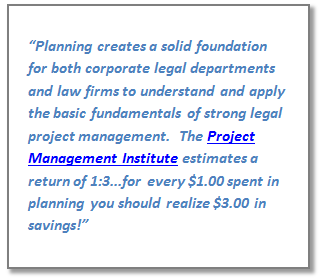 In today's digitally connected world, advanced software technology can help us deal with the tasks at hand in a more collaborative environment. By creating a shared platform for the entire team to work within…the details, calendar dates, progress and status updates, and documents are more accessible. By eliminating the individual "silos" of information, everyone can instead work within a single resource of live matter data from a common position, resulting in optimal team collaboration. Keep in mind that software solutions will not magically generate work plans, budgets, and financial reports by themselves. They require upfront work to outline the project blueprint. This lays the foundation for ultimate project success.  It all begins with drawing up those initial plans, or Scope – including overall strategy, budget, and resources. Once established, you can then use the software solution to track and report on the progress at any stage of the plan, and provide actionable insights to ensure superior results.
To read more on our previous post on "Legal Project Management" click here.