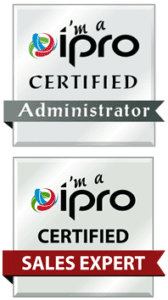 doeLEGAL, Inc., an innovative provider of litigation managed services and electronic discovery solutions for the legal marketplace, today announced three of their expert Litigation & eDiscovery staff have earned the latest Ipro certifications while attending recent training sessions. One of the most recognized providers for eDiscovery processing and review, Ipro continues to expand the capabilities of experts through extensive training and testing.  doeLEGAL has been an Ipro solution provider for years with great success in litigation cost reduction and increased efficiency for its clients.
doeLEGAL's Joshua Brown, litigation support manager, and John Hagan, manager electronic data discovery (EDD) processing, both received the Ipro Certified Administrator certification credentials.  As Ipro Certified Administrators, Josh and John will expertly "manage a litigation support or electronic discovery project in an Ipro tool to the highest standards of quality".  Only Ipro Users and Partners who have received extensive product training and have significant hands-on product experience are eligible to take their certification test. After rigorous, on-site training, each has shown the highest level of competency on each of the Ipro tools and completed all testing requirements to earn their Ipro Certifications.
John Russo, pervious vice president and eDiscovery sales lead for doeLEGAL, Inc., earned his Ipro Certified Sales Expert credential extending his expert knowledge of all the products in the Ipro tool sets and has the capabilities to demonstrate their benefits to potential clients. This expert status honors the extreme trust that clients and potential clients have in doeLEGAL's superior software sales information and dedicated after-sales support services.
doeLEGAL's President and CEO , Tom Russo , stated, "The ongoing education of our eDiscovery staff is an important differentiator for our clients. Continuing to provide the superior sales and service we have become renowned for is part of our pledge to continually increase our experts' capabilities so we remain on the leading edge of legal technology. We are extremely proud that Josh, John, and John took the initiative to receive training and earn their Ipro certifications on this very powerful software."
For more information on how doeLEGAL earns their clients' business every day or to request a demo, please visit www.doelegal.com/demo-request. Contact them at 302-798-7500, or e-mail info@doelegal.com.
About doeLEGAL
doeLEGAL is an innovative provider of legal management solutions that include Legal Enterprise Management Software (ASCENT) and eDiscovery Services. doeLEGAL is dedicated to earning every client's business through our 5-part distinction model including predictable cost of ownership, superior technology & software, configured to your unique world, client-focused support, with solutions built on a foundation of collaboration.  Our experience in providing innovation to the legal industry for over 46 years has developed our hosting services into legal project management that enhances workflow with process automation.  Our mission is to provide you with outstanding software, service, and support that enhances your ability to practice law in more effective and efficient ways using the best data available. For more information, contact doeLEGAL at 302-798-7500 or email info@doelegal.com. Visit their website at www.doelegal.com.