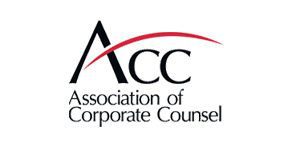 doeLEGAL recaps the ACC 2013 National Meeting held in Los Angeles, California Oct 27-30. This event is where the heads of the most influential corporate legal departments come to share successes and learn from one another. Through sharing, this collective body of legal thought leaders provides deeper insight and useful advice to their counterparts as a way of helping each organization face the growing legal challenges and changes that are an integral part of any successful business. Legal is looked to as the "go-to" source that helps an organization remain compliant and handle the associated risks (and expenses) they come across. To do so, these departments often rely on their ACC's local chapters and the national meeting as vital resources.
The classes and presentations were well attended and the feedback we heard on the presenters and panels was very positive. Recurring themes of BYOD challenges, security, project management, risk management, cost containment, and legal department efficiency were timely and relevant.
The event sponsors ranged from technology providers to law firms to organizations focused on supporting the legal community. doeLEGAL is proud to be an ACC Full Sponsor for the 5th year. Helping our clients lower their expenses and increase their efficiency to peak performance is our mission. Demonstrating our value by being a part of the greater collective legal mind-share proved the reasons that the National ACC Meeting is the place to connect and learn.
We spoke to many of the attendees regarding our advancements in Legal Spend (eBilling) and Matter Management, eDiscovery, Litigation Management, and Legal Enterprise Collaboration (LEC). The future of legal is changing so rapidly that we must remain on the cutting edge of legal technology to provide the best value to corporate legal departments and the law firms that support them. doeLEGAL has taken that one step higher by developing our own solutions that provide non-proprietary formatted output, deep analytics, cost-cutting measures, and real-time reporting on every stage of the process.
If you would like to hear more about our process and how it can enhance your own legal team's capabilities – you can request a quick demo to see how the right solution can increase your efficiency and lower your overall legal expenditures. In this rapidly changing economy, that stability truly is a win-win for both sides.
To all those that came by ACC booth 703 to speak to our doeLEGAL staff, we thank you for your time. We appreciate the discussions that offer us more feedback on the changing needs of the markets we serve. doeLEGAL is a responsive partner that remains focused on providing our partners and clients with the most beneficial legal services at the most competitive prices.