Digital Announces doeLEGAL's Ascent ELM is Best Legal Billing Software Award Winners of 2021
Ascent ELM™ is recognized by Digital.com, a business solution review company, with their 2021 Best Legal Billing Software Award for the benefits it provides clients seeking advanced software. doeLEGAL's ELM solution provides the necessary tools to help legal teams control their cases and costs. Read more about their evaluation of Ascent ELM here.
Digital defines the criteria they used to evaluate 60 software solutions available to the legal market. Take a deeper look at how Digital evaluates the software and how these awards were decided:
• HOW WE CHOSE THE BEST LEGAL BILLING SOFTWARE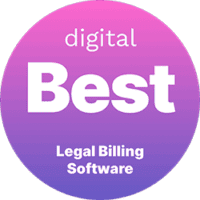 There are many legal billing software options on the market — but they're not all created equal. When you begin to look at the options and compare their capabilities and features, it can get confusing. We researched and evaluated the best legal billing software options based on the most important criteria. We wanted to know how these software options can make running your business easier and less stressful and how these software choices can help you save time, get more accomplished, and be more organized. We considered the following criteria as we looked at potential best legal billing software options:
• BILLING & INVOICING TOOLS
The legal billing software you choose should simplify time tracking, invoicing, billing, and payment processing. We took the time to evaluate these features so that the software you choose does what you need it to do and there are no surprises.
• ACCOUNTING FEATURES & INTEGRATIONS
We also evaluated legal billing software to determine how useful its built-in accounting features and accounting integration tools are so that you're able to bill effectively. This will allow you to get more work done faster and can help you avoid making costly billing mistakes.
You can read more about Digital's list of their 2021 award winners by viewing their press release here.
We've included an excerpt:
SEATTLE (PRWEB) FEBRUARY 03, 2021
Digital.com, a leading independent review website for small business online tools, products, and services, has announced the best legal billing software of 2021. The top systems were selected based on three main criteria and customer feedback.
Each platform was expected to support accounting features and integration tools that allow users to work faster and reduce billing errors. The study also evaluated billing and invoicing tools to simplify time tracking and payment processing. Case management tools are also essential for tracking billable hours and expenses for each client and legal issue.
"Legal practices can use billing software to maintain accurate billing and get paid faster," says Christelle Feniza, Communications Manager of Digital.com. "This guide was developed to help narrow the search for the best legal billing software."
Digital.com's research team conducted a 40-hour assessment of over 60 solutions. To access the complete list of the best legal billing software, please visit https://digital.com/legal-billing-software/.