#1 in the new 7-part Blog Series: How to Evaluate Legal Operations Solutions
Evaluating Legal Ops Solutions:

First Step, Assemble a Team
As we move through the first year of a new decade, many corporate legal departments are taking a hard look at Enterprise Legal Management (ELM) technology solutions that will help them operate more efficiently and reduce legal spend. Legal Technology evolves constantly, making the evaluation process appear rather daunting, but there's a way to take an intelligent approach – step by step.
The key to exploring technology solutions for your legal operations is to take a step back. That's because, while you may understand the challenges your teams are facing with your current solution, these are likely different than what the system was originally brought in to address. So dig further to uncover the real problems it was trying to solve in the first place, and how the business situation has evolved since then. We offer a 7-point checklist to help you develop your own path forward. Inspired by our clients' own plans for success and augmented with our implementation team's insight and professional expertise, this approach can help you find the right solution to your challenges.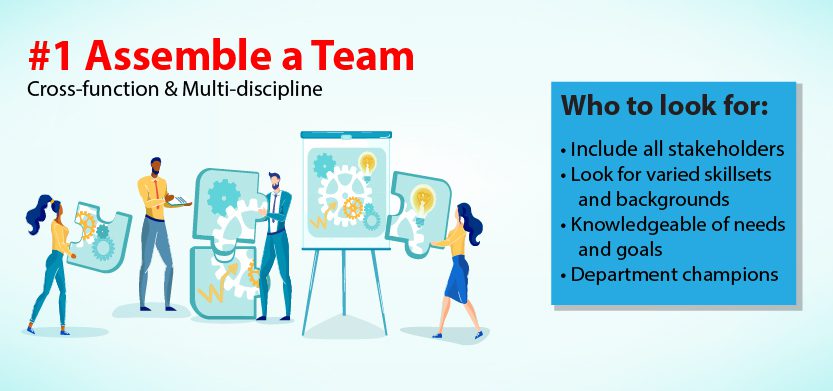 Ninja Tip: The best practice to follow when building a team is to broaden the scope of candidates you seek. Make your team cross-functional, multidisciplinary, and diverse. This builds the stronger foundation that will see the "big picture" of the entire company's needs, not just Legal's.
Who should be on the team?
This brings up the question, "Beyond you and your legal team, who should be involved in the evaluation process?" The short answer is to look at how other business unit teams are facing similar issues, and how they might contribute to your effort. They can also benefit from the outcomes. This can help ensure buy-in from other department champions, so consider adding them to the team.
To understand the business issue, this broader group might help redirect the conversation from identifying symptoms to identifying what drives change – in concrete terms. Escalating costs, for example, represent common issues in virtually all industries and departments. If cutting legal spend by 20%, for example, is your quantifiable goal, it flows from the business objective of reducing costs – familiar to any number of teams in your organization.
Other typical business objectives include:
Boost performance
Minimize compliance risk
Build support for Legal's decisions.
Bringing together diverse teams to deconstruct the problem or challenge and create a new way to express it gives everyone a sense of empowerment. With other teams in the conversation, you get the benefit of their varied expertise, their insights, and possibly even some of their resources.
Ninja Tip: It's critical that Legal provide a holistic solution that addresses the needs of other business units to win acceptance. Seek team champions from other departments that can judge how best to overcome challenges in procurement, human resources, and accounts payable as well as increase contributions to business goals.
Create the structure & focus on the plan
To guide the process and make sure everyone is "marching in the same direction," you need to create structure and a team t guide it through the process. You can begin with talking points in defined categories such as people, process, innovation, and technology. Use these to gauge the interest and opinions of the prospective team members.
These talking points may uncover problems that are systemic to the members you approach:
Finding enough relevant data to advance their mission
Making faster, better decisions
Improving efficiency
Mitigating risk.
Once defined, these talking points become the core of your plan, including how you plan to address these problems when choosing candidates. Each potential member may have their own ideas on the value an organization can expect to receive once the problems are addressed. Knowing who will be involved in making the decisions may help steer you to who to include. If you're reading this post, chances are a new legal ops technology will be part of the solution, but some of the problems uncovered may be solved with things like better communication or a process improvement outside of Legal Ops. Plan your strategy around finding good champions to include in order to drive the best results.
Ninja Tip: We've all heard the adage, "Failing to plan is planning to fail." Truer words have not been said when you plan for the team to evaluate new solutions. You need to find the right people to uncover critical pain points, possible solutions to those, and can plan out a company strategy to find the right solution.
What's next?
Now that the team building is understood, let's cover the rest of the blog series and what you can expect it to cover.  A checklist is an excellent tool for improving focus and staying on track. It's a structured element that gives a diverse evaluation team a sense of personal ownership, empowerment, and accomplishment while making sure that no critical steps are being overlooked.
Ninja Tip: Ensure each member of the team understands their role in your evaluation process. Encourage open communication and allow for regular "brainstorming" sessions to ensure good ideas aren't overlooked.
While every firm's checklist will vary, yours should look something like this:
Assemble the team (This blog post!)
Start a conversation with leaders in every business unit that touches yours, and, if appropriate, invite them to be part of your evaluation team.
Ask incisive questions
Get to the heart of the business issue and identify a quantifiable goal.
Evaluate the need
Consider whether the need is great enough to commit your collective resources.
Set goals
Look at quantifiable goals for short-term (now through the next year) and longer-term (through the next 3-5 years) time periods.
Watch for deal breakers
Discuss what, if anything, would jeopardize a decision.
Gather evidence
Encourage members who are not part of your own unit to share challenges they face in theirs and what they're doing to overcome them.
Follow best practices
It's quite possible that examples of what other teams have done will include a formal or informal list of best practices – or at least some insights for creating that list.
Going forward…
By the time you've completed the full checklist, you'll be ready to evaluate software providers and help them effectively provide the solution that meets your needs.
In our next post, you'll find a list of questions that you can use or adapt for your company, along with "the most important question you might not think to ask."
***