Part Two of the Five-Part Series "Top 5 ELM Benefits" – Data Transparency
How Proven Benefits Build a Stronger Case for ELM Through Data Transparency 

Considering the added scrutiny corporations are under to prove the viability of any new technology they want to implement, it becomes increasingly important to begin by gathering evidence that overwhelms any doubts. Knowing the benefits of that technology and the data that backs its claims helps drive credibility before doubt enters the argument. The search for evidence to help justify an Enterprise Legal Management Solution (ELM) is the foundation of this blog series.
Enterprise Legal Management (ELM) solutions provide efficiency and cost-saving opportunities for the entire business. But the real question that helps decision-makers sign the order is, "What benefits can my organization expect after implementing an ELM solution?" Over the next installments in this blog series, we'll explore the answers together.
In this series of blogs, we will take a deep dive into the Top 5 benefits of ELM.
ELM Solution Benefit #2:

Real-Time

Data Transparency
Corporations seek more and more data to make informed decisions, but analyzing this volume of data and sorting it into actionable insights creates its own challenges. Business data transparency is helping corporations have a more holistic view of their operations. This allows decision-makers to have a complete view of the business before taking action. Transparency leads to eliminating data silos which hinder the ability to see how it all fits together. Increased Visibility reduces delays in getting answers which results from a few essential elements being present:
Real-time Data Flows of current business operations as it occurs
Prompt Delivery of Insights to where they drive the most valuable actions
A Single Collaborative Repository for storage and analysis of all data
We'll cover how these elements play together and build upon one another to create a fully transparent vision of the holistic legal landscape within the business ecosystem.
Real-Time Smart Data, Intelligently Delivered
In the age of data-driven everything, it is essential to realize that too much data can render a business incapable of making a decision. This overwhelming flood of data may lead to inaction or errors by your legal team. ELM systems can help in many ways to overcome this hurdle, but not all systems have the same capability to take these divergent business data flows and analyze them to provide real-time insights. Legal teams rely on data, so choosing a solution that delivers on that promise is critical. The goal of any new LegalTech aims to offer businesses a powerful, configurable tool that gives legal teams more confidence to act.
NINJA TIP:  Reducing the time to find answers while eliminating the chance of making decisions on outdated information is the mission of ELM's data transparency capability. When business leaders have real-time data they trust, they have the confidence to act quickly.
 1. Data transparency makes data smart.
Data becomes smart when transformed into the insights required to propel a business forward. For Corporate Legal, this means quick access to everything from high-level summaries to granular details on open matters, even financial reporting, like aging reports on open invoices. Additional data integrations can help guide other business units to their answers from the holistic data collection. When your data is smart, it supports and informs your decisions regardless of your business. It gives your teams more control over cases and costs. This is what we call "Smart data."
Smart data provides a single reference point rather than the bits and bytes trapped in different applications and documents, making it easy to analyze and share information securely. This data transparency comes from shared access through a single position on operations to collaborate with the entire legal team, including your in-house legal staff, business-unit reps, third-party vendors, and outside counsel—the result: Greater transparency, efficiency, and insight.
It's powerful when legal teams can collect disparate, divergent data streams and transform them into smart data using the analytic capabilities of the system. The output offers a wealth of help for the entire business through its reporting functions. The ELM system essentially brings all collected data to be auto-analyzed and distilled into actionable answers. However, this offers little value if those answers aren't delivered to where they do the most good. The delivery concept leads to the following essential part of the benefit coming from an advanced ELM system – "smart data, intelligently delivered."
2.

Intelligent delivery

makes data actionable.
Having access to smart data is only half the battle. You also must make the smart data available to everyone on the team, where they are, when they need it, in the optimal format for their individual needs.
"Intelligent delivery" makes smart data comprehensive, accurate, and actionable. Here again, it's time for a mind shift: You shouldn't have to change the way you work to create and use your smart data. Legal teams that can act confidently because of their data-driven insights mean less lag time and fewer mistakes due to outdated information. Although you may already rely on a legal information-management solution, it may not accommodate your department's needs to work in the same way an ELM System can.
Truly intelligent delivery enables users to determine what smart data they need and how they will receive it within the access parameters you specify. In other words, intelligent delivery serves up timely information related to all matters in one place, so teams can quickly compare matter, spend, and outside legal partners' performance. Getting timely answers is the difference between a successful outcome and one that's "too little, too late."
Ninja Tip: This is not a "crystal ball" mentality. This won't make decisions for you! It's about having the "big picture" of all data that affect the business in the palm of your hand. Knowing how to read the guidance to act comes from the ELM system's total data transparency. But transparency is only valuable if it's delivered in real-time. Legal teams gain the confidence to make decisions when they trust the data.
3. One Solution to Rule Them All
A single position for all parties involved in a matter to access their relevant data is the backbone of most ELM systems. This analytic dashboard design incorporates a repository where all the information is distilled down to what each role and security level can view. How that analyzed data is presented is not created equally. The most user-friendly ELM systems offer the ability to configure where and how their information is assembled and delivered. Building this backbone is an evolutionary process, so providers that allow for flexibility to adjust the analytic engine allow teams to accommodate change and growth into their future.
Transparency allows the display of pertinent role-based insights on any given dashboard. This level of data transparency provides greater daily control over the most critical information users need, all in one place. For example, ELM has been described as a "single pane of glass" where users visualize their entire legal world based on the extreme data connectivity it accommodates. Businesses can use this data transparency to understand better what matters are costing more than budgeted, where bottlenecks happen, which law firms are performing and which aren't, and which matters should be settled rather than litigated any further. Other business units can access the system for their answers related to collected business data streams. Users can also generate reports to compare historical outcomes to gauge progress because all data comes from one collaborative repository: one system, one position, and many answers.
Ninja Tip: An ELM system offers a powerful position that provides a user-friendly and efficient access point for answers without searching multiple programs. Putting the data in one place ensures there is no wasted time exploring. The saying that "attorneys live in Outlook" is not too far off the truth. The goal is to put everything needed in one place, so advanced ELM systems put more integrated access directly into Outlook to perform many ELM standard tasks there.
Using Data Transparency to Build More Successful Outcomes
Success is not some nebulous concept when dealing with business data. We've covered how decisions are becoming more data-driven to inform action. The time- and cost-saving benefits prove that decisions made using ELM insights help businesses advance and improve both Legal's contributions to business operations and the overall bottom line. Success can also be measured in the time to act and how long it takes to implement a transformational change.
When teams reduce the time to act without sacrificing confidence, they grasp the value of having real-time, up-to-date data to make those decisions. No more mistakes need to occur using old or incomplete data sets. When implementing change, ELM system data also helps provide forecasts on outcomes. Employing the breadth of data available from an ELM system, users can confidently get immediate answers to make critical decisions. This level of transparency gives businesses an elevated perspective on their operations, allowing Legal teams to control the cases and costs that affect the business's success.
What's next?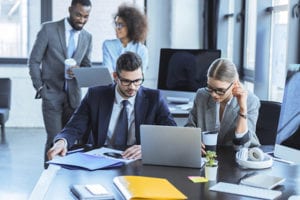 In this series of blogs, we will continue to cover the top five benefits of ELM and what each offers to modern business teams.
Next, we'll cover the third benefit of implementing ELM systems in year #1 – Lower legal costs through automation, cost-predictability, and invoice management.
If you're ready to move forward; you can also request a demo now.