In the book "The 7 Habits of Highly Effective People", author Stephen R. Covey describes time management by placing tasks into four quadrants:  Important and urgent, important but not urgent, urgent but not important, and finally, unimportant and not urgent.  We've all spent some time discussing the previous day's "quarterbacking" with our coworkers, but the overwhelming trend is that effective people do their jobs, and do them well. Organizations are better at communicating expectations while the teams are working more collaboratively to stay on point. Business services are an area in our marketplace where good time management and a customer-centric focus are truly required.
I want to focus on Mr. Covey's  first quadrant:  important and urgent.  These tasks are defined as problems, deadlines, a customer that needs attention right away, an order that needs to get rushed to the top.  The reason why I want to focus on this topic is because in the world of eDiscovery from a technical perspective, almost every request seems to fall into this category.  "It needs to be done, and it needs to get done ASAP!" is a phrase that I hear all too often.
IMPORTANT & URGENT?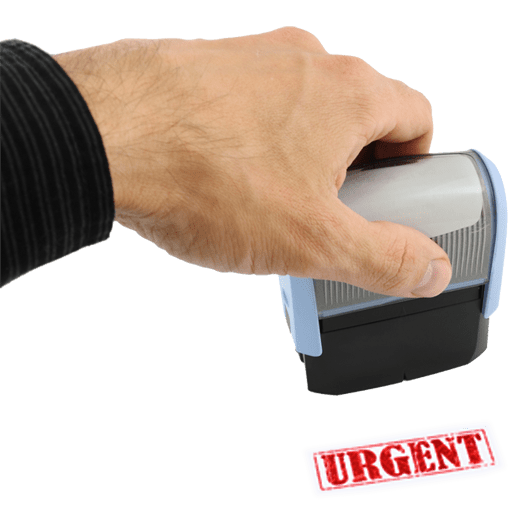 One of the main reasons I receive as a cause for requiring an outside service provider to join the team is TIMEFRAME.  "Too much to do and not enough time to do it."  All of it, every task, gets the label of important and urgent.  The reasons behind this reality vary, whether a deadline was set, or an extension not granted.  Whatever the reason, things need to get done, and sometimes having the work done internally is not a viable option.  This brings up a very important question:  when reaching out to a service provider, what response do you expect?  Do you feel they view your pressing matter with the same urgency that you expressed? Do they understand the pressures and react in an appropriate, "let's get it done" manner?  The bigger question might be, why are you settling for not getting a timely response?  It is important and urgent to you and that should be recognized.  If not, change vendors to one that will.
ANSWERS, NOT QUESTIONS
Something you will never hear from a doeLEGAL client is, "Did you get my email?" When a client feels like they have to follow up on a message sent,  it sends a clear signal. We simply do not believe this is something that should ever be a part of the workflow when working on your project.  We know Discovery specialists have a lot to do and even less time to do it in so tripping over getting assistance simply should not happen in today's eDiscovery hypermarket.  We dedicate experts to answer every call and give you the information you need, right when you need it. Communication is king when working on time-sensitive matters – expecting a timely response should be a given today. Our customer-focused support ensures that… every time, every day!
"RESPONSE-ABILITY"
With this in mind, we take on that urgency without keeping our clients in the dark. They hear it right at the start because we react by responding in a timely manner. This demonstrates a few critical things from our clients' perspective.  It lets them know that we are there for them and will help.  Talk about  giving clients some well-deserved "peace of mind." We love to hear how our clients feel that their projects are in good hands.  Our "Response-Ability" shows that we take that trust seriously, developing a deeper sense of trust and reliance.  Not all discovery requests have the most pressing deadlines, but the wheels have to be set in motion to show that the players involved on the case are doing their best to resolve the issue.
CONTENT IS KING
Here comes the real crux of the matter… the content.  Not only is receiving our response important, but what our response entails matters greatly.  Every day, there is a new method to dealing with certain types of technology, whether it is hardware or a new file type. Service providers, like doeLEGAL  have a duty to consistently stay abreast of what is happening in the industry.  We continually dedicate our time to training and researching the best of the best. We anticipate our clients wanting the ability to research the method for collection or processing, what is the best tool for each task, and what other options are available?  Passing information to our clients is an important way we partner with them to ensure the best product every time. Remember, the issues we are discussing are considered urgent, so if nothing is happening, it doesn't matter what the relationship is, you have to cut bait and move on. We are happy to take on your project and devote the resources to ensure you get your entire litigation service at your fingertips.
PLAN OF ACTION

Finally, we see having a plan of action in tandem with the clients request becoming an integral part of the success of discovery matters.  Timeframe, cost, and workflow tie together with the most complex discovery requests making our responses even more critical, especially during the early stages.  Once a request is sent to us, responding with next steps, offering solutions to the problem, and implementing a cost-effective strategy for completion are what separate doeLEGAL from the rest. We have a process that guides the entire lifecycle of the work and clients love that.  Focusing on the client's request with "response-ability" is one more way we earn our clients' business every day.
About the Writer:
Gianni Maiorano is an eDiscovery account rep possessing an outstanding ability to understand the process, apply the right tools, and deliver client results they are after within tight deadlines and budgets. Partnering with each client to understand their unique situation and driving forces is how responsive and capable eDiscovery experts benefit their team. This laser-focus on customer support is why doeLEGAL's Managed Litigation Services are applied on some of the most notable cases around the world. To learn more about doeLEGAL, visit www.doelegal.com.
Image credits: shutter999 / 123RF Stock Photo
http://www.shutterstock.com/pic.mhtml?id=64274203&pl=38919-91612