eDiscovery Early Case Assessment – ECA

Advanced LegalTech Reveals What's Hiding in the Data
Early Case Assessment, Visual Searching, and Active Learning
The Ascent eDiscovery platform integrates Ipro's "discovery ][ Enterprise" applications suite giving you access to one of the legal industry's most advanced document review technologies within a secure, collaborative environment, including "Visual Searching", Early Case Assessment (ECA), and Active Learning (AL).
Ascent eDiscovery project managers work with you to use these technologies to combine document metadata, concepts, timelines, and other search criteria to quickly, easily, and accurately identify and assess ESI that strengthens and/or weakens a legal position.
Whether used individually or in combination with each other – Visual Searching, ECA, and AL provide the kind of deep insight into document sets and communication patterns that are needed to minimize the review burden, prioritize the review order, and focus on relevant content.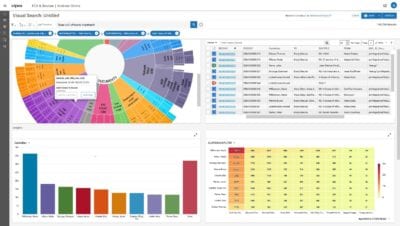 ECA effectively reduces the review burden by focusing on the most relevant content. doeLEGAL provides expert support for all ECA operations, including:
Creating, configuring, and populating ECA databases
Developing ECA queries, prioritizing of review orders
Promoting relevant documents to review databases
AL to reduce and prioritize review order
More About Active Learning
Active Learning goes well beyond previous versions of TAR to elevate review accuracy and maximize review efficiency by continuously analyzing the documents within a review set to identify those that are relevant, assess the degree of relevance, and assign a relevancy score.  This ongoing "live" analysis of the document set automatically reorders the review set based on relevancy scores to ensure that documents with the most relevancy are given the highest review priority.
Early Case Assessment Capabilities
Timeline
ID data range peaks & valleys
Inspect to view relevant data
Data entry targets time frames
View gaps in data collection
Target most active time periods
Tallying Fields
View values data contains
Read common email subjects
ID domains with most communication
Report on all law firms involved
Visual Search
View search results graphically
ID emails sent to & from domains
Exclude irrelevant or privileged domains
See emails between addresses
Reports
Full reports show data visualization
Summary reports of types & extensions
Exclusion reports ID filtered & excluded docs
Clustering & Concept Wheel
View key concepts within case data
Searches data at granular level
Exclude data based on concepts
Concept searches on excluded data
Run searches for quality control
Get started
Discover how doeLEGAL, A Questel LegalTech Solutions company can help you reduce costs, improve efficiency, and optimize the business of law.
Download
the Ascent eDiscovery capabilities sheet to learn more about the unique benefits law firms find by working with the industry's leading-edge technology supported by knowledgeable litigation experts.
Ascent eDiscovery Capabilities
Ascent eDiscovery gives you the ability to significantly lessen the review burden which reduces your litigation cost.
Let doeLEGAL manage the advanced eDiscovery tools, so your time can be spent building a stronger case.
EDD Processing & Culling
Remove excess document bulk with de-duping and smart processing capabilities.
Early Case Assessment
 Advanced analytics and search technology ensure minimal review burdens.
Hosted Review
 Reduce the most costly litigation expense using cloud-based review and TAR tools.
Production Services
Experts use best practices to guide Production and ensure Quality Control.
The real challenge was the particularly large volume of data and the tight time deadline. However, once we were given the final search terms, the total time from initial ingestion to first production was less than five weeks, thanks to the significant de-duping and culling rate we were able to achieve with IPRO Eclipse.
John Hagan, Manager, EDD Services at
doeLEGAL