eDiscovery Analytics & Reporting

Understand How It's All Related: eDiscovery Analytics & Reporting
eDiscovery Analytics and Reporting are included
(at no additional charge)
with all
Ascent eDiscovery
projects. Our experts are ready to help guide your in-house team through the technology tools to improve your review efficiency.
Advanced eDiscovery Analytics
allows legal teams to leverage powerful functions like email threading, near-duplicate detection & document comparisons, coding form rules, and mass actions like bulk tagging. By knowing more about your documents and the data they hold, your team can strategize more effectively and have the necessary information to drive more successful outcomes.
Ascent eDiscovery clients have access to powerful analytic tools:
Advanced/complex queries and visual searching
Email threading and document timelines
Document families, near-duplicates, and document comparisons
Clustering and categorization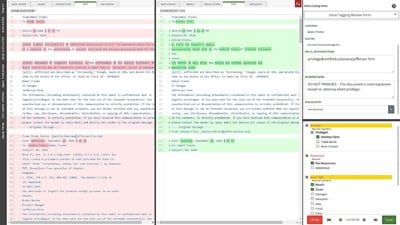 Advanced Analytics and Reporting services are used to identify litigation document relationships and expedite the document review process.
Download
the Ascent eDiscovery capabilities sheet to learn more about the unique benefits law firms find by working with the industry's leading-edge technology supported by knowledgeable litigation experts.
Ascent eDiscovery Capabilities
Ascent eDiscovery gives you the ability to significantly lessen the review burden which reduces your litigation cost.
Let doeLEGAL manage the advanced eDiscovery tools, so your time can be spent building a stronger case.
The real challenge was the particularly large volume of data and the tight time deadline. However, once we were given the final search terms, the total time from initial ingestion to first production was less than five weeks, thanks to the significant de-duping and culling rate we were able to achieve with Ipro tools.
Josh Brown, eDiscovery Manager at
doeLEGAL